Our Success Stories
Every dog we place in a home is a success story in our eyes,
but here are some of the ones that have made an impact on GPPR in the last year!
Good Morning! As we're cruising into our third month of delight with Davey, I thought it a good time to share our hearts' delights.
From the second we met Davey we knew we were in for a lot of good, un learning. His innate sense of wonder with the world, coupled with his deep desire to be a "good dog" has afforded our home and family much joy.

We find ourselves astonished by Davey's quiet personality. Despite his large size, his presence is always subtle. I have often found him curled up near me and wondered when and how he showed up without my knowing it! He hasn't barked but a dozen times since coming home! All have been at perfectly appropriate times and he has instantly stopped upon our command. It's rather astonishing.
We're continually surprised by how quickly Davey picks up new behaviors. He recognizes that coffee time is not attention for Davey time and turns to his favorite bone in the meantime. He curls up nearby while I work at the computer, satisfied to just have me home. After two applications of Mushers Secret on his paws, he lay down and rolled onto his back the instant my husband grabbed the container on day three! He took to the leash within a few short days honoring our pace and instruction. Additionally, it only took us a half dozen trips to the nearby State land for Davey to learn the thrill of being off leash. Though he runs through the woods with heart-filled abandon, it's clear he'd never purposely lose sight of his people. He races in a conscious circle centered around us and always promptly returns to upon our call.
Whether walking in the snow, meeting Lake Michigan, hearing the unique call of the sandhill cranes at the nearby field, greeting our neighbors, attending obedience class, welcoming guests to our home, riding in the car, playing with other dogs, chasing down a tennis ball, eating the garden's spent brussel sprouts and kohlrabi, learning the antagonistic ways of squirrels, or trying to curl up on our laps, Davey embraces life with a sense of wonder and enthusiasm that has renewed our own spirits. We have received countless unexpected joys seeing the world through his eyes. Our home possesses more laughter and affection, contentment and wonder, gratitude and connectivity all because of this special guy's vitality.
We thank you for the obvious commitment to good care you and your staff enveloped Davey in for all the months he was with you. Because of your generous hearts and hard, hard work, we have the priceless gift of Davey.
With much gratitude,
~MJ Cobb & Donn Redford
NELLIE
Nellie came to us from St. John where she found to be skin and bones. Little did we know, she was also pregnant! She gave birth to some beautiful puppies, and eventually found her furever home!
MARMADUKE
Duke was found in Gary and took us all on a ride! Within 24 hours, he bloated and had emergency surgery. A few weeks later, he had his second emergency surgery to remove his spleen! He also was heartworm positive and had to endure treatment. After about three months with GPPR, he found his furever home in Michigan!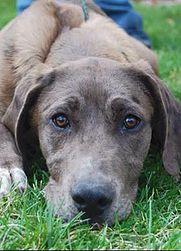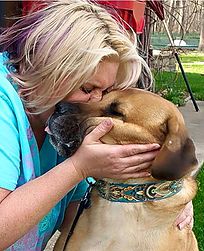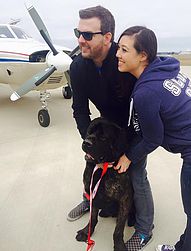 CHANCE
My husband and I adopted our dog, Chance, from GPPR in 2013. The adoption was a fantastic experience, we felt like family the minute we started working with these rescuers! They helped us find the perfect trainer, the best food and toys, and supported us through everything. It is very clear they care about the dogs first and foremost! We recently had the privilege of fostering for GPPR as well. It's been no surprise that we have been supported through this entire process too. GPPR made sure we had everything we needed and more for our foster. The president of the rescue personally came out to see the foster several times and made sure he had everything he needed and we felt supported. I have never met such a selfless and caring group of individuals! We are honored to have adopted our sweet Chance from them and now being part of their volunteer family :) - Meagan G.
EASTON
I have had multiple encounters with Giant Paws that have been so amazing! I first adopted my boy Easton from this rescue and right then you can see the amount of caring these people have for their dogs. They do not hide anything and are very upfront with what they know of their dogs. To me this is an awesome characteristic to have for a rescue. I fell so in love with this rescue that I volunteer as often as I can ( not enough to say the least) with taking pictures. This rescue is one of a kind and doesn't leave anybody behind! You guys hold a special place in my heart and I will continue the contact with this rescue forever! Thanks for all you do! - Amber T.
Olive
I must say my heart is broken because I had to give my fur-baby up. However Giant Paw Prints Rescue was so compassionate and understanding of my doggie's needs. They made me feel at ease when I arrived. The foster family they picked out special for my girl was a great fit. Even though my heart breaks I know my baby is in wonderful hands. I would recommend this place and these people to who needs a home for their dog. My Great Dane is my baby and I am so heartbroken but I know she is in a great and healthy home. This is the first time I ever had to give up my pet and it was so very hard but they were amazing to my pet and to me. - Can D.
TITAN
We love Giant Paw Prints! Our Titan dog came from here and we don't know what we would do without him! This is a wonderful rescue with the dog's best interest at heart! - Taylor E.